88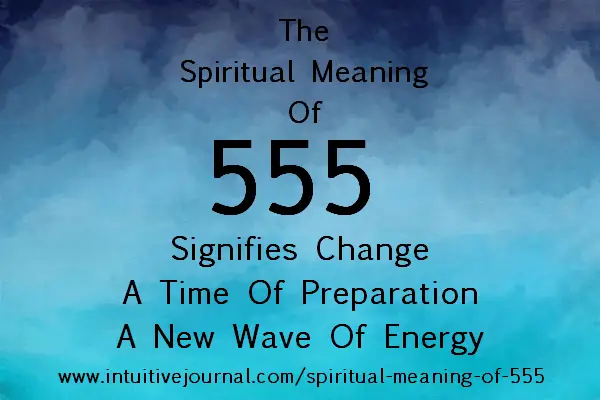 Spiritual Meaning of 555
Find out the spiritual meaning of 555 and what it means for your life. If you see these repeating numbers, your angels are trying to communicate with you. Read what they want you to know. I have written before about other repeating numbers like 000, 111, 11:11, 222, 333, 444, 666, 777, 888, and 999 in case you are seeing those numbers as well.
What is the Spiritual Meaning of 555?
Seeing any repeating number is a sign that there is a current issue in your life and the numbers are a sign to get you to pay attention. It is a persons subconscious trying to make them aware of something consciously.
Please do not think that seeing a particular number is "bad" or "good". The Universe sends you different messages at different times, each having a separate vibrational frequency. It does not mean you are any more evolved or conscious than another. These numbers are triggers, more than anything, to help you remember your life purpose and connection to Source.
The Energy of Angel Number 555
The energy of 555 sweeps and flows like the tides of the universe. It is the ever constant change that prepares us for the next new thing. You are seeing the repeating number 555 as a way to remember what you were put on this earth to do. You are all healers of one type or another. You are needed to usher in the new wave of energies. Seeing 555 is point of remembrance of this change.
When you are vibrationally aligned with this change, you will see 555. There is nothing bad or good about seeing this number, it is really a small help to you to assist you in remembering your purpose, as all numbers are. It is correct that all numbers carry their own vibrational energies. Once you learn about the most notable ones, you will begin to see others.
Do not be upset by seeing any of these repeating numbers. When you see numbers like this it is important to remember to keep your thoughts positive and not let yourself get frightened by them.
Feel the fear and have the courage to step into the power of change. You may wonder what types of changes, such as global, local or personal. I don't think you can really distinguish between the types of changes. It is all the same, just packaged a bit differently.
When you begin seeing the repeating number of 555 it carries with it the energy of change. I know you may interpret change as a bad thing, but change is neither good or bad, it is just change. You are vibrationally capable of sensing and feeling  and noticing the change. Your angels offer this number to you as a vehicle to recognize important signs in your life.
It is an additional piece of assistance to help in your communications with your guides and angels. Just by being aware of the repeating number 555, you are embracing change. Please know that your guides and angels are there for you, helping you. The more aware you are of your angels, the greater amount of communication they can have with you.
Do you keep seeing 555? Leave a comment below.
Free Numerology Report
Do you want to know what your personal numbers are and what they mean in your life? Find out what makes you tick. Reveal your true nature and character and use it to change your life. Get a free numerology report from a master numerologist by clicking here.
More Resources
Do you have the brain of a millionaire? Take this quiz and receive your personalized report plus video.
60-Second Life Success Quiz – Are you on the path to ultimate life success? Why leave it to chance? I highly recommend that you take this 60 second quiz and then check out your customized report that comes from it. Take the quiz now by clicking here.
Manifesting Through The Akashic Records – Have you ever wondered why some things seem so hard to manifest? Click here to watch this free webinar.