22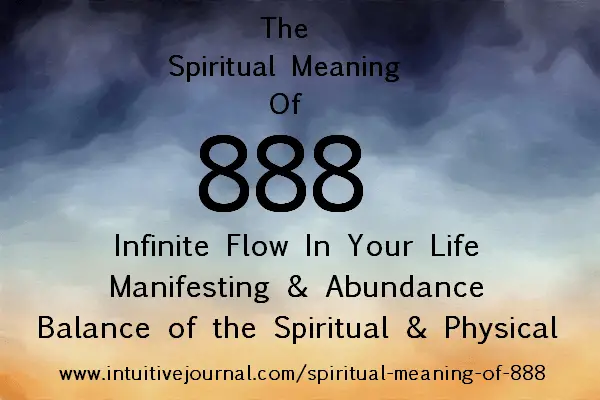 Spiritual Meaning of 888
The spiritual meaning of 888 means there is flow in your life and a beautiful energy circulating around you. The angel number 888 is the sign of balance and abundance, either in the form of money or friends and family. The repeating number 888 represents duality, infinity, as above-so below, abundance, a never-ending cycle, or an even exchange of energy for money.
Find out the spiritual meaning of 888 and what it means for your life. If you see these repeating numbers, your spirit guides and angels are trying to communicate with you. Read what they want you to know. I have written before about other repeating numbers like 000, 111, 11:11, 222, 333, 444, 555, 666,  777, and 999, in case you are seeing those numbers as well.
What is the Spiritual Meaning of 888?
Money, balance, and abundance! For me when I see 888, I know money and abundance are soon to appear in my life, especially if I see the repeating number 2 or 3 times in short order. Usually within about 24 hours of seeing those numbers, I will get an order for something or I will receive money either in person or in the mail.
To me it is a sign that I am energetically vibrating at a high enough level and that my vibrations match the amount of money I have previously asked my spirit guides to bring to me. I think the energy of 888 is about balance. When your thoughts and actions balance and align,  money coming into your life is the result of that.
What is the Energy of Angel Number 888?
888 indicates that your thoughts and actions are in harmony with each other. That number is about balance and the results of creating in the physical world. It is a harmonious number as the two circles come together forming a continuous loop.
As you can see when placed on its side it becomes the sign of infinity. Imagine the flow of energy, in and out circling around and around. It is the flow of energy throughout the universe. It is a beautiful sight. What you need to know about this number is that there is no end or beginning, just a constant cycle and flow.
It is synergy and the melding of the spiritual and the physical. Once you have reached a vibration and able to see this number, manifesting what you want becomes much easier. At this point you have gotten rid of many of your fears and are able to see the Truth for what it is, an infinite cycle of beauty, form, and function.
Seeing this repeating number may come and go, as new fears are constantly being realized, throwing you out of alignment with its vibration. Once you have course corrected, you can realize the true energy of this number. It is a signal that you have made progress in your path of growth.
Do you keep seeing 888? Leave a comment below.
Free Numerology Report
Do you want to know what your personal numbers are and what they mean in your life? Find out what makes you tick. Reveal your true nature and character and use it to change your life. Get a free numerology report from a master numerologist by clicking here.
More Resources
Do you have the brain of a millionaire? Take this quiz and receive your personalized report plus video.
60-Second Life Success Quiz – Are you on the path to ultimate life success? Why leave it to chance? I highly recommend that you take this 60 second quiz and then check out your customized report that comes from it. Take the quiz now by clicking here.
Manifesting Through The Akashic Records – Have you ever wondered why some things seem so hard to manifest? Click here to watch this free webinar.