24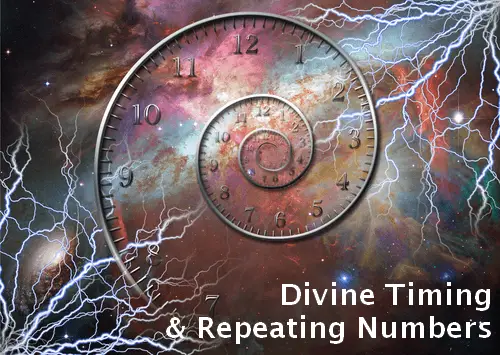 Divine Timing and Repeating Numbers
Can seeing repeating numbers be a sign to get you to notice divine timing? Read about my recent experience and how it played out in everyday life.
Many of you have emailed me asking what you need to do when you see repeating numbers. Here is one account of how I have incorporated them into my everyday life.
Seeing 555
Early Sunday morning I woke up out of sound sleep, rolled over and saw 555 on the digital clock. Hmm…
Divine Timing And Repeating Numbers
The day proceeded as normal until early afternoon when I was preparing to go grocery shopping. My son and a friend of his told me the were going to bicycle over to his house. They left the driveway and headed in the opposite direction. This wasn't sitting too well with me and I went out to the road to see where they were headed.
I continued to get my list together and as I was headed out the door, my son's friend whizzes by on the sidewalk with his bike. I got him to stop and asked where my son was. He stated he was up ahead and they were racing to his house. I couldn't see him ahead, but it seemed they were both fine.
I went to the car in the garage to find that it wouldn't start. I kept turning the key and it just didn't have enough juice to turn over. Finally it did.
Just at the point that my car finally started, my son pedals into the driveway, fairly shaken up because he didn't know where his friend had gone. I was able to be there and comfort him and told him I had talked to his friend and he should ride his bike over there while I went shopping. Crisis averted.
I had been letting the car idle in the garage for about 10 minutes or so. I turned it off, started the car again and all was well, it was running fine. I completed my grocery shopping without incident. On the way there I was thinking about the incident and wondering if it was divinely guided that I left later than I had planned.
A car drove past me with the first three numbers of the license plate being 111. Asked and answered.
On the way back from my shopping, I was thinking about the earlier situation with my son again, wondering if it had all been set up so that I could be there for him. I realized I had got into the wrong turn lane as I needed to stop somewhere else before going home, so I turned around in a parking lot and saw another, totally different car with the first three numbers of that plate begin 111. Asked and answered again.
My Take on Divine Timing
I am very grateful to have still been at the house when my son needed me. He would have been fairly worried if I had left only a few minutes earlier and there had been no one at home, even though he knew I was going shopping. I strongly believe that divine timing (the notion that everything happens at the exact right time) played a big part in that.
Sometimes there doesn't have to be a big earth shattering reason to see repeating numbers. You may have even found this post a bit boring. This is one way that I incorporate the numbers into my everyday life as to be useful.
And yes, I will be getting the battery checked out, because that is just being sensible.
Do You See Other Repeating Angel Numbers?
I have written before about other repeating numbers like 000, 111, 11:11, 222, 333, 444, 555, 666, 777, 888, and 999 if you see those numbers as well.
Free Numerology Report
Do you want to know what your personal numbers are and what they mean in your life? Find out what makes you tick. Reveal your true nature and character and use it to change your life. Get a free numerology report by clicking here.
More Resources
Do you have the brain of a millionaire? Take this quiz and receive your personalized report plus video.
60-Second Life Success Quiz – Are you on the path to ultimate life success? Why leave it to chance? I highly recommend that you take this 60 second quiz and then check out your customized report that comes from it. Take the quiz now by clicking here.
Manifesting Through The Akashic Records – Have you ever wondered why some things seem so hard to manifest? Click here to watch this free webinar.